Grow your market share with SECORA Innovation Methodology (SIM), a superior product/service development design method and tool to optimize customer satisfaction.
Spurred by its guiding motto "Do the right things effectively rather than the wrong things efficiently", SECORA has developed its own bespoke methodology to accelerate product and service distinction. Amongst its best-in-class proprietary assets includes its flagship SIM (SECORA Innovation Methodology), which uses creative product / process design techniques to help optimize your business products, processes, and services to meet and supersede customer requirements. With roots in Kano Analysis, Axiomatic Design, DoE, and TRIZ, a set of creative thinking techniques and tools for product and service enhancement, SIM ensures your new business products and services not only fit customer requirements but exceed their expectations.
Developed in 1984 by Dr Noriaki Kano, professor of quality management at the Tokyo University of Science, Kano is a product development and customer satisfaction tool that classifies customer preferences into five categories, after data-gathering during the Voice of the Customer (VOC) phase. Moving from a "more is better" to a "less is more" approach, the model encourages business leaders to think beyond functionality and rather on how their products or services satisfy their customers' needs.
Building on its SECORA Continuous Improvement Methodology (SCIM) approach, which draws on traditional Lean Six Sigma strategies to streamline processes and eliminate defects and variations in any product, process or services, SECORA's SIM methodology uses a six-phase proprietary technique to:
Determine customer needs
Simulate and test the products and service delivery system before market rollout
Eliminate waste across the value chain
Employing methods such as Axiomatic Design, a high-value systems design methodology which applies a systematic, scientific approach to optimize products, processes, and components, and TRIZ, a powerful problem-solving tool to speed up product development, SIM uses data-driven research, rather than intuition, to ensure products meet customer needs. Part of a bouquet of world-class SECORA solutions, SIM uses Design of Experiments, Taguchi Methods, Tolerance Design and Response Surface Methodology to identify potential design flaws, before refining the finished design, ensuring your products and services gain traction in established and untapped markets.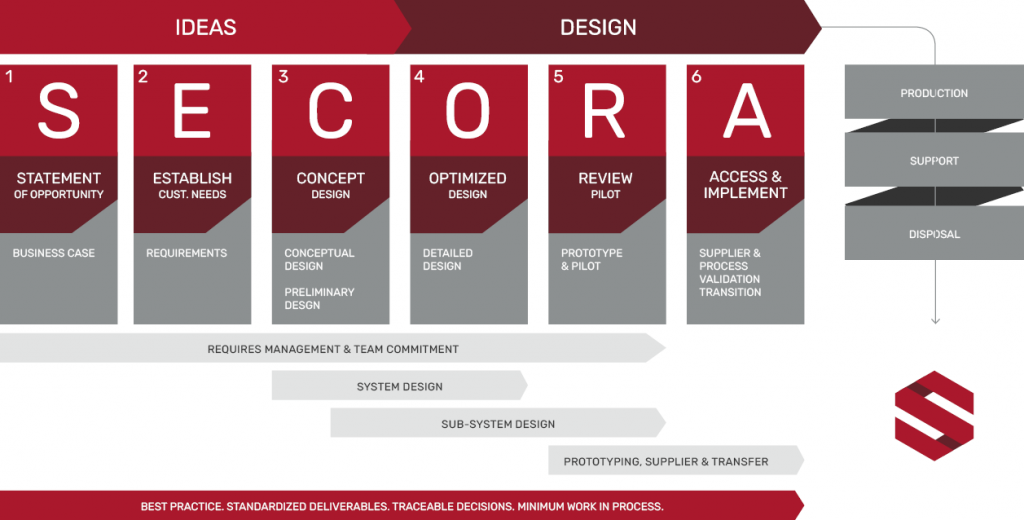 Founded in 2001, SECORA is a global consulting company that helps organizations of 50 to 80 000 employees across the Americas, Europe, Asia and Australia optimize their efficiency through process streamlining, effective strategy, risk reduction and quality advancement initiatives. Get in touch with us and lets discuss how using SIM and other tools, we break complex issues down into manageable, solvable, and sustainable solutions, to give your company the focus and direction it needs to prosper in today's economy.
To find out how SECORA can further help you improve processes, reduce waste, and increase market share, check out our offering at SECORA.
Check out our START (SECORA Tactical Assessment Review Team) & SCIM (SECORA Continuous Improvement Methodology), and our Lean Six Sigma Training program.